Think about how long it takes to look up information on microfilm or microfiche. The time it takes to find the proper roll or slide, place it into the machine, and then find the correct piece of data?. After microfilm conversion, you could find that information in less than a minute via a simple search.
Converting your microfilm and/or microfiche to digital files can seem like a huge, complex, and very overwhelming process. ECM Today! can help you tackle this project efficiently and affordably. Digitizing your microfilm and microfiche can completely change the way it is accessed and stored.
Thanks to today's advanced technology and our team of skilled specialists, we can scan your microfilm and microfiche and transform each roll into a powerful digital document with instant accessibility. Whether you have rolls of documents, images, notes, or minutes, they can be scanned and put through the digitization process.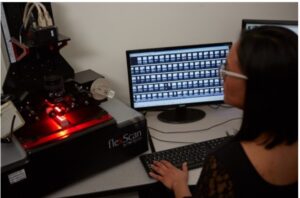 The ECM Today! Microform Conversion Process
We collect your microfiche jackets, microfilm rolls, COM fiche, and aperture cards.

Then we scan OCR (optical character recognition), and index them at our secure facility.

We accurately convert your document images to PDF, TIFF, or any other file format.

Finally, we upload or distribute the corresponding digital files in any format of your choosing—making those old personnel records, payroll records, medical records, and drawings instantly accessible.
Why Should I Convert My Microfiche and Microfilm to Digital Files?
Despite claims that microfiche and microfilm have a shelf life of up to 500 years, that has not been the case. This microform material decays. Climate-controlled environments only delay decay, they do not eliminate it.
Check your film and fiche. Do you notice any:
Measles/blemishes

Vinegar smell

Brittleness

Stickiness

Fungus
If so, consider digitizing these records before the decay makes it impossible to do so.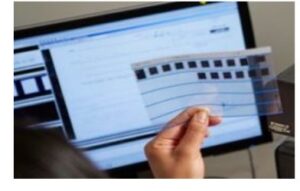 Benefits of Scanning Your Microfiche and Microfilm
Once you decide to convert your microfilm and microfiche to digital files, the benefits quickly begin appearing. Organizations become so happy with the results of the microfiche conversion services that they often ask themselves, why didn't we do this sooner? An example of some of the benefits that come along with microfiche and microfilm scanning include:
Preserves Information Accurately

Improved Document Control

Searchability

Instant Accessibility

More Physical Space

Increased Efficiency

Save Money

Peace of Mind (and Digital Backups)
For an estimate of your microfilm and microfiche scanning cost, or if you are ready to digitize your microforms, please contact us.
Want to learn more?
Please fill out the form and we will be in touch.